Atopix Therapeutics Ltd
Atopix Therapeutics Limited is a clinical stage biopharmaceutical company developing a novel class of medicines to treat atopic dermatitis and severe asthma.
The company is developing a novel class of oral anti-Th2 therapies, called CRTH2 antagonists.
Our lead candidate, OC459, is currently being studied in a Phase 2 clinical trial for moderate to severe atopic dermatitis in Europe and in a Phase 3 clinical trial for moderate persistent eosinophilic asthma in Russia.
Our back-up, ATX2417, is undergoing a Phase 1 human safety study.
Later in the year, we plan to start a Phase 2 proof-of-concept study to evaluate the effect of OC459 in patients with severe asthma who have persistent airway eosinophilia, despite treatment with high doses of inhaled corticosteroids.
Dr Mick Hunter
CSO & Director of Development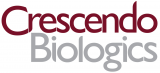 Crescendo Biologics Ltd
Crescendo Biologics is focused on the discovery and development of best-in-class Humabody™ VH fragment therapeutics, using its novel transgenic platform. Crescendo is enabling the major VH product formats (multivalent, half-life-extended and topical) for its own pipeline, focused in oncology (immuno-oncology, checkpoint inhibitor and ADC, Humabody Drug Conjugate programmes) and inflammation, and to make it the partner of choice for human VH fragment therapeutics.
Dr Nigel Crockett
Head of Business Development