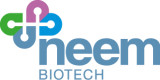 Neem Biotech Ltd
Neem Biotech is a rapidly growing biotechnology company developing novel antimicrobials that are derived from plant and marine sources. Once extracted, purified and stabilised, these bioactive compounds are further developed in-house into platform technologies that target important human, animal and plant health markets, including areas of high unmet medical needs such as antimicrobial resistance and rare diseases. Particular areas of interest for Neem Biotech include cystic fibrosis, wound healing and fatty liver disease.
We are currently in preparation for a Phase 1 clinical trial looking at the effectiveness of our lead compound as a potential new treatment for pseudomonas-caused respiratory infections in adults with Cystic Fibrosis.
Neem Biotech is also developing a number of products for animal and plant health applications. These products are expected to be commercialised via partners starting in 2016.
Neem Biotech is based in Blaenau Gwent, Wales, UK