MGB Biopharma Ltd
MGB Biopharma is a private company based in Glasgow, Scotland and is backed by a syndicate of Scotland's leading angel investor groups together with Scottish Enterprise.

Antimicrobial drug resistance is recognised as a global public health concern with an urgent need for new antibacterial drug classes that are more effective than existing treatments. MGB is developing the first truly novel class of anti-infectives in over a decade that has the potential to treat infections of a number of the most important susceptible and resistant pathogens. Our lead compound has shown strong bactericidal activity with quick onset of action against many strains of Gram-positive bacteria. It has completed pre-clinical development and progress into our phase 1 clinical study for the treatment of Clostridium difficile have been endorsed by the MHRA. Optimisation of a new formulation for intravenous administration and treatment of systemic Gram-positive infection is ongoing.

MGB has acquired exclusive rights to the proprietary minor groove binder platform, developed at the University of Strathclyde, Glasgow. This platform provides an opportunity to develop additional compounds with the potential to treat Gram-negative, viral, fungal and parasitic infections.

MGB continues to work closely with Strathclyde University to develop the pipeline and is currently seeking partners to help maximise the value-creating opportunities from its broad platform.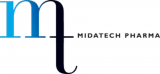 Midatech Pharma
Midatech is a nanomedicine company focused on the development and commercialisation of multiple, high-value, targeted therapies for major diseases with unmet medical need. We are advancing a pipeline of novel clinical and pre-clinical product candidates based on our proprietary drug conjugate and sustained release delivery platforms with a clear focus on the key therapeutic areas of diabetes, cancer and neuroscience/ophthalmology.

Our strategy is to develop our own products in-house in rare cancers and with partners in other indications, and to accelerate growth of the business through strategic acquisition of complementary products and technologies. We are particularly interested in opportunities in the Oncology area.

Our Octreotide product is available for licensing, and we have several ophthalmology programmes underway. In addition, we have multiple collaborations and partners, and a joint venture in Diabetes with a Transbuccal insulin in Phase 2.

Our technology is unique and has created possibly the smallest biomedical particles in the clinic today.
Dr Tim Sparey
Business Development Officer
Dr Simon Bennett
Business Development Consultant