Absolute Antibody Ltd
Absolute Antibody Ltd, rather than creating entirely new antibodies (or antibody-like molecules), takes existing antibodies (often from hybridomas) then manufactures them in a superior way and improves their usefulness by engineering.

The company achieves this through the use of proprietary vectors (pUV™), transient transfection of a high-yielding mammalian cell line (ABS293™) and a universal purification platform. In this way 100s of mgs can be produced within two weeks plus it allows Antibody Engineering eg rapid reformatting or generation of unusual formats like Fc Silent™, bi-specific antibodies, recombinant Fab and F(ab')2 (AbFab2™) fragments.

Antibody sequencing, manufacturing and engineering services are offered to all antibody users and the ever-growing antibody catalog already includes 12 research-grade biosimilars, as well as recombinant versions of "classics" (e.g. anti-F4/80 [Cl:3A-1], anti-phosphotyrosine [PY20] and anti-c-myc [9E10]).
Dr Nicholas Hutchings
CEO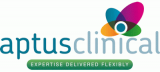 Aptus Clinical
Formed by former AstraZeneca colleagues, Aptus Clinical utilises their extensive expertise in drug development to partner with life science companies and academia in their quest to identify and develop valuable new medicines.
If you have a new clinical compound in development and are looking for strategic input to clinical development plans and study design or need access to flexible and cost effective clinical research professionals to support you in delivering high quality clinical development projects, please get in touch.
Mr Jonathan Lewis
Business Development Associate

Atopix Therapeutics Ltd
Atopix Therapeutics Limited is a clinical stage biopharmaceutical company developing a novel class of medicines to treat atopic dermatitis and severe asthma.
The company is developing a novel class of oral anti-Th2 therapies, called CRTH2 antagonists.
Our lead candidate, OC459, is currently being studied in a Phase 2 clinical trial for moderate to severe atopic dermatitis in Europe and in a Phase 3 clinical trial for moderate persistent eosinophilic asthma in Russia.
Our back-up, ATX2417, is undergoing a Phase 1 human safety study.
Later in the year, we plan to start a Phase 2 proof-of-concept study to evaluate the effect of OC459 in patients with severe asthma who have persistent airway eosinophilia, despite treatment with high doses of inhaled corticosteroids.
Dr Mick Hunter
CSO & Director of Development